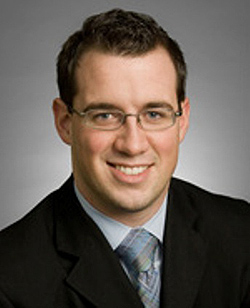 Jean-François Leclerc
Following the presidency of Georges Leclerc (September 2006 - September 2008)
Founding member of the Leclerc Families Association in March 2004, Jean-François first started as the secretary of the Association, than he became vice-president and in September 2008, he was elected president.
Born on May the 5th 1984 like his twin brother named Nicolas, Jean-François belongs to the famous family of the enterprise Biscuits Leclerc by way of his father Jacques and his grandfather Jean-Robert. He also has a younger brother named Pascal.
Descending from the ancestory of Jean Leclerc and Marie Blanquet, Jean-Francois is a member of the Quebec Bar and exercises his practice in legal and commercial rights at the Langlois-Kronstron-Desjardins's office, located at 801 Grande-Allée west in Quebec city. Jean-Francois has illustrated himself during his law baccalaureate at Laval University notably when he won the President of the Bar's cup at the contest of the Pierre-Basile Mignault pleading. He was also a candidate in the Quebec municipal elections of 2005.
His dynamic attitude and his youthfulness are well in accordance with the image of our family Association which will persue its development under his direction and his radiant influence.
© Tous droits réservés - associationfamillesleclerc.ca 2009