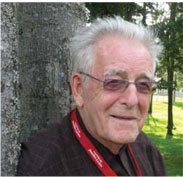 Dr. Raymond Leclerc
A snapshot of Dr. Raymond Leclerc, veterinary physician.
The Association of Leclerc Families wishes to honour a member who has from the beginning participated in its activities, while diligently pursuing an exemplary profession. With his brothers, they make it a point of assisting at every annual meeting. He also ardently promotes our association in the area he lives in. His successes began in Trois-Pistoles, continued at Grosse-Isle then at Paris and Haiti. Finally he retired in1984 on the family estates, among his relatives, enjoying the quiet tides of the St-Lawrence.
Our cousin Raymond was born in Rivière-Trois-Pistoles on August 3rd, 1923, the fourth of a brood composed of eight girls and seven boys. Along with other youths of his time, he attended the local multi-grade school. Following his extensive schooling he eventually went to the St-Victor de Beauce Seminary, and later to the Mont-Laurier one. Then in 1953, at the Ste-Hyacinthe School of Veterinary Medicine, he pursued his University education until he graduated in 1958. Notwithstanding his parents' wishes to heal souls, he opted for the animals' welfare.
After his graduation he became a Meat Inspector for the Federal Government in numerous locations of the Province of Québec, from Hull to Rimouski. During those years he took an interest in genealogy and joined the first Association of Leclerc Families, the one founded in 1960. He was named President for a year and was Chairman of the Organizing Committee of the Leclerc Reunion of July 10 and 11, 1965 in Rivière-Trois-Pistoles where over 400 Leclerc, Leclair and Leclaire participated in numerous sport competitions, popular art contests and cod fishing. They later enjoyed a traditional evening of revelry, complete with a huge beach bonfire. On the agenda were some official events such as the unveiling and blessing of a plaque commemorating the settlement of Louis Leclerc, a great-great-grandson of Jean Leclerc and Marie Blanquet, who, in about 1791, settled on the same land where the plaque is now on display at the present residence of Raymond and his sisters Madeleine and Raymonde. Louis Leclerc, a pilot and seafarer, is the ancestor of most Leclerc of the Lower St. Lawrence and of Madawaska, NB.
Soon, Raymond's professional career took an important upswing when he accepted, in 1966, a position at Grosse-Isle where a team was implementing an animal quarantine station for Agriculture Canada. Only six month later he was assigned the position of Chief Veterinarian of the Animal Quarantine Center for Eastern Canada, a position he held until 1974. The Federal Government shut down the quarantine at Grosse-Isle and turned it into the Grosse-Isle National Historical Irish Memorial, open to tourists during the season. For most of us, Grosse-Isle brings to mind the cholera epidemic and the typhus that decimated the Irish immigrants fleeing the potato famine of the 1850's for a better life in North America.
Grosse Isle is not as well-known as Isle-aux-Grues across Montmagny in the St-Lawrence, both part of Isle-aux-Grues Archipelago located between Isle-d'Orléans and l'Islet on the South Shore. After over a century as a human quarantine post from 1832 to 1937, the National Defense Ministry implemented in 1942 a Bacteriological War Experimental Research Installation; in 1956, Agriculture Canada took over and set up the Animal Pathology Laboratories; then in 1965, it set up the Animal Quarantine Station managed by Raymond during most of its existence.
For six months a year from 1966 to 1974, Raymond stayed at Grosse-Isle where all European cattle, ordered by breeders from all over Canada, landed. From 1974 until 1980, he was stationed at the Paris Canadian Embassy from where he made the required veterinarian inspections to select the beasts appropriate for "immigration" and to detect possible animal diseases. He had to endure many stormy 10 to 17 day crossings accompanied by a 150 to 200 cows entering the country. For six years he sailed with all cattle imported, mostly from France, Italy, Switzerland, Austria and Germany. No doubt, Raymond must be the most traveled Canadian veterinarians of his employ.
This eminent and unique expertise in animal quarantine subjects made Raymond the government advisor sent in 1982 to Haiti, where a severe hog epidemic raged. He remained there for 18 months, the time for the disease to abate. On his return, he decided to end his career in veterinary medicine and return to the land of his birth in Trois-Pistoles.
The Leclerc Families Association is proud to have among its membership an illustrious individual such as Raymond Leclerc and avail itself the opportunity to greet Jean-Paul, Gérard, André, Denis, Gervais, Raymonde, Madeleine, Marie-Marthe, Thérèse, Françoise and Claire Leclerc, the 11 siblings of our honored member, and also his cousins Suzanne and Micheline, all residents of Trois-Pistoles, save Claire who lives in St-Jean-sur-le-Richelieu.
Translator Fernand "Fred" Leclaire #95
© Tous droits réservés - associationfamillesleclerc.ca 2009