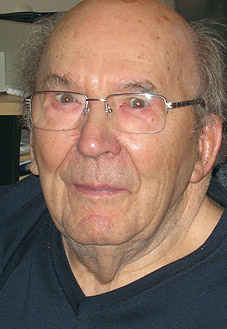 Robert Leclerc
Leclercs who made their mark
A visit with Robert Leclerc, Businessman.
The very first Association des Familles Leclerc, established in1963 by Cyrille Leclerc, had many capable organizers, presided by numerous key individuals, until 1971 when, at the sudden passing away of Cyrille, all activities ceased. We wish to recall the work of Robert, now 93, one of the worthy Leclercs active during that stage. Elected president in late 1965, he led a Leclerc group on a 22-day trek through France, Germany and Italy in 1966.
A few biographical tidbits will illustrate his career. He was born on May 2nd, 1917 at L'Islet-Station from the marriage of Nilus Leclerc and Marie M. Deschênes, one among a brood of 20, seven of which are still living. In 1923 he attended an at-home school run by his older sister Marie-Adèle for the family only, a very strict one at that. Waken at 6:30, breakfast at 7:00, other meals at noon and six; five minutes before the meals a bell called for hand washing and hair combing, then everyone stood behind their chair awaiting their father's prayer - the Angelus in Latin - at noon. Only the older ones were allowed to speak during the meal, the rest sat in silence, relates Robert.
In 1931, Robert started high school at Collège de Lévis, then at Dalhousie, N.B. After a year's pause he continued in Waterbury, CT and at the Institut Thomas of Québec City in 1937 and 1938. He finally joined the family business during 1938.
A business that started as a small woodworking shop in 1876, when his grandfather Alfred converted a flour mill he had purchased in Saint-Cyrille-de-l'Islet, where he was often asked to fabricate or repair loom parts. In 1900, Alfred, with sons Nilus and Alphonse, incorporated as Alfred Leclerc & fils, makers of furniture, church pews, looms and other wood products. Nilus eventually purchased the enterprise for $1700 in 1902, and then in 1924 he designed a smaller loom suitable to domestic applications.
WWII made the Leclerc Looms known worldwide. Military hospitals used them as a means of rehabilitation for war casualties and thus brought about a huge increase in production and a new incorporation as La Compagnie Nilus Leclerc Inc. in 1944 by Nilus and his sons, Robert, Alfred, Lucien and Louis. Soon after Nilus retired but remained President until his death on March 1st, 1961.
Robert took over as General Manager then began modernizing the plant, and reorganizing the loom sales and distribution to increase revenues. Coincidently they restarted the fabrication of church pews. Robert recalls "We made, among others, the pews for Saint-Anne-de-Beaupré Basilica, Edmonton's Cathedral, the St-Yves church in Ste-Foy, St-Pie-X in Limoilou et St-Mathieu in Montmagny, in piqued maple." On February 9th, 1951 a fire destroyed most of the factory. The fall production was restarted after rebuilding. Sales of the looms continued to increase dramatically, Robert insured that the Nilus Leclerc Inc. name continued to spread.
Eventually, Robert was called upon to provide assistance to newly developing countries; this was the start of a new international career. In 1968, the International Bureau of Labour suggested that he travel to Iran to improve looms and other associated equipment, a six-month assignment in two three-month segments with a three-month back-home hiatus in between. He followed up by giving assistance in 52 different countries on weaving matters. He was two months in Chile and Barbados, another in Mali; he also visited the Chiapas, at the request of Mexican Government. Robert also published two works, Ourdir et Tisser, in five languages, and Créations en Tissage, 25,000 copies in both French and English.
A family enterprise the Nilus Leclerc Inc. company has 95 employees, of which 94% are family members, after more than a century. The company owns outlets in Plattsburgh, NY, Sacramento, CA and Paris, France; they have distributors in 73 countries, Germany, England, Australia, South Korea, Mexico and Japan.
A tireless worker, wise manager and voyageur par excellence, Robert also participated in many community affairs: churchwarden, municipal councilman and then mayor for six years. When he retired in 1986 he moved to Quebec City, so that he would be nearer his progeny. His spouse Gilberte Bélanger, whom he wed on November 7th, 1942, passed away the year before. They had five children, 3 girls and 2 boys; to date the family consists of 10 grandchildren and 6 great-grandchildren. He wed a second time to Françoise Deschênes in 1995, and spends his time pleasure-travelling and enjoying the summers at his chalet in Lac Trois-Saumons.
Pope John XXIII awarded Robert the Chevalier of the St-Sylvester Order for his services at the founding of the Ste-Anne de la Pocatière diocese.
The l'Islet Arts and Culture Corporation has recognized this man who contributed to the spread of this region's name from the loom's worldwide use; their 2007 document is one of the references for Robert's career. They also created a traveling exposition: The Leclerc Looms, in 2010.
"We can state without hesitation that Robert Leclerc is considered one of the key individuals responsible for the rebirth of manual weaving in the western countries. Most of his career was dedicated to the expansion of a manual activity among a civilisation who utterly favours industrialism." *
* E. Schartmann, op. cit. Ourdir et tisser, Robert Leclerc.
© Tous droits réservés - associationfamillesleclerc.ca 2009